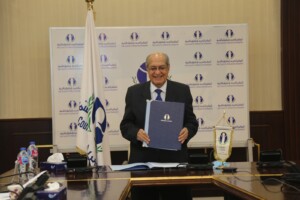 The Arab Network for Early Childhood Development (ANECD) represented by its General Coordinator Dr. Ghassan Issa, the Arab Council for Childhood and Development represented by its Secretary-General, Dr. Hassan Al-Bilawi, and the National Council for Family Affairs, represented by its Secretary-General, Dr. Mohammad Al-Muqadadi, have signed a memorandum of understanding to enhance collaborative work among the three parties in the field of Early Childhood Development (ECD). The signing took place in Amman, Jordan, on May 24th, 2023.
The memorandum aims to facilitate cooperation between the signatory parties while keeping up with advancements and benefiting from the latest scientific advances in child development and care. It also includes organizing seminars, conferences, and other activities to disseminate knowledge and promote the interests of early childhood development.
Dr. Issa stressed that the memorandum of understanding reflects ANECD's ongoing efforts to establish a wide regional network dedicated to the well-being of children in Arab countries. He also mentioned that ANECD recently signed a similar memorandum with the Lebanese Ministry of Social Affairs, through its Higher Council for Childhood, to support the work of the National Group for Early Childhood Development in Lebanon which was launched earlier this year. Additionally, ANECD supported the establishment of the Palestinian Network for Early Childhood. Furthermore, Dr. Issa stated that ANECD is currently working on establishing national networks for ECD in Tunisia and Morocco, emphasizing the increased need for cooperation and attention to our children today more than ever before.
Dr. Al-Bilawi emphasized that this collaboration is part of the Arab Council's efforts to support partnerships, knowledge-production, advocacy, communication, research, and training in the field of ECD. He explained that the Council's focus on early childhood is based on a nurturing model called "Hope Education," which incorporates the latest educational developments and contemporary pedagogical experiences, aiming to "create a new Arab society".
Dr. Al-Muqaddadi highlighted that ECD interventions are a guarantee for a better future for children. He mentioned that the efforts of the National Council in this field, including achievements in Jordan, especially regarding Child Law and the establishment of the National Team for Early Childhood Development, are based on the belief that early childhood is the most crucial stage in human life. According to studies conducted in Jordan, the return on investment in early childhood education and care, if children receive three years of pre-school care and education, is estimated to increase the average lifetime income by over USD 23,000.
It is worth mentioning that the memorandum of understanding will be followed by cooperation agreements that will include various activities, such as participating in advocacy campaigns and conducting further studies on nurseries and kindergartens in the Arab world.