No Peace for Palestine's Children Without Justice, No Future for them Without Protection
The scorched-land policy and the suffocating blockade are a violation of the Convention on the Rights of the Child, and a war crime against children and their families in Gaza.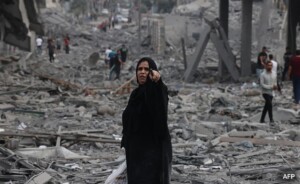 It is worth noting that while we were preparing this report a few days after the start of the war on Gaza, we had to repeatedly adjust the casualty numbers due to their continuous increase. Therefore, we would like to draw attention to the fact that this toll is not final, and it will have undoubtedly risen by the time you read the report.
 2.2 million Palestinian refugees, 1.7 million are refugees since 1948, are crammed into a 41 kilometers by 10 kilometers area of 365 square kilometers.
One million children live in Gaza (50% of the population).
60% of the injuries in Gaza are among women and children.
More than 600 children and 400 women out of 1,900  Palestinians in Gaza have been killed, and the toll is rising, according to the Palestinian Ministry of Health.
"The people in Gaza will have no electricity, no food, no water, and no gas, everything is closed. We are fighting animals in human form, and we will act accordingly," according to statements from Israeli government officials.
The blockade imposed on the Gaza Strip since 2007 has intensified.
Over 423,000 Palestinian families have been displaced with their children from their homes in Gaza (United Nations Office for the Coordination of Humanitarian Affairs).
The Israeli occupation forces are instructing the besieged residents of Gaza to head towards Egypt through the Rafah crossing. They are then calling on all Gaza residents, including women and children, to move south to the Gaza Valley within 24 hours "to preserve their personal safety," in an attempt to displace the population of the Gaza Strip.
"The Palestinian Red Crescent" denounces and condemns these calls, stating that there is nowhere for more than 2.2 million Palestinians to go, and there are no means of transportation to evacuate them.
UNRWA describes the request to leave Gaza as terrifying.
Destruction of more than 5500 houses and 3500 damaged.
The complete extermination of entire families through the bombing of their homes without prior warning.
Destruction of residential complexes, hospitals, medical centers, and schools.
The killing of 11 UNRWA employees.
The destruction of the Red Cross building in the Gaza Strip by Israeli shelling, and the organization states that "the lifeline in Gaza is beginning to erode."
The World Health Organization reports attacks on medical facilities and the cessation of operations in most hospitals due to the depletion of water and electricity.
Destruction of 15 ambulances and the killing of 10 paramedics and 10 journalists
The World Food Programme says that food supplies in Gaza are running dangerously low.
The killing of 11 journalists and the injury of others in Gaza and Lebanon.
Aid trucks coming from Egypt were prevented from entering Gaza.
The bombing of refugee convoys as they attempt to leave the city of Gaza.
A complete violation of the Convention on the Rights of the Child in all its provisions and a war crime against children and their families.
The Convention on the Rights of the Child stipulates protecting children and ensuring their lives, health, safety, education, freedom from torture, abuse, and violence anywhere in the world, regardless of their race, religion, nationality, or gender. This agreement is binding on the countries that have ratified it (including Israel), and they must enact laws and policies to ensure children's rights, especially during times of war.
Considering Israel's ratification of the Convention since 1991, it is legally bound and accountable to the international community for the full implementation of its provisions. This includes taking all practical measures to ensure the protection and care of children affected by armed conflicts, as stipulated in the fourth paragraph of Article 38. Israel is also obligated not to subject any child to torture or other forms of cruel, inhuman, or degrading treatment and not to deprive any child of their liberty in a legal or arbitrary manner, in accordance with paragraphs (a) and (b) of Article 37.
A Palestinian mother says, "My children in Gaza died hungry".
What is happening in Gaza is collective punishment; starvation, targeting civilian and health infrastructure, depriving residents of electricity, and cutting off all sources of safe drinking water. At a time when more than a million people in Gaza and its children originally needed humanitarian assistance.
These violations and the imposition of a blockade on the people of Gaza and its women and children have prompted international organizations to raise their voices loudly, including UN Secretary-General Antonio Guterres, who announced that "operations must be carried out strictly in accordance with international humanitarian law." Guterres emphasized that "civilian infrastructure should not be a target at all," speaking about Israeli violations, including striking health facilities, residential towers, a mosque, and targeting an UNRWA school housing displaced families from Gaza.
In this context, the United Nations High Commissioner for Human Rights, Volker Türk, confirmed that "imposing a blockade puts the lives of civilians at risk by depriving them of basic living necessities, which is prohibited under international humanitarian law."
Human Rights Watch described the statements of the Israeli Minister of Defense regarding the people of Gaza and their children, considering them as human-like animals, as disgusting and viewed them as incitement to commit war crimes. The director of the "Israel and Palestine Affairs" office at the organization, Omar Shaker, emphasized that depriving the people in Gaza of food and electricity constitutes collective punishment, adding that "this type of action is a war crime, just like using starvation as a weapon, and the International Criminal Court should take note of this call for the commission of a war crime."
International Humanitarian Law Principles:
International humanitarian law grants special protection to civilians as protected persons during times of war, as defined by the Fourth Geneva Convention and Additional Protocol I relating to international armed conflicts.

International humanitarian law categorically prohibits the starving of civilian populations as a method of warfare. In this regard, international humanitarian law establishes a list of "essential items for the survival of civilians," including foodstuffs, agricultural areas producing food, crops, livestock, drinking water facilities, and networks, as well as irrigation works. Starvation, in broad terms, covers deprivation of essential goods or insufficient supply of things necessary for survival, such as medicines and blankets.

International humanitarian law prohibits the attack, destruction, removal, or disabling of essential civilian objects.

A complete set of rules prohibits attacks targeting dams, water installations, and power-generating stations if such attacks would cause serious harm and extensive damage among the civilian population.

Bans or restrictions on the use of certain weapons, including toxic gasses, incendiary weapons, landmines, cluster munitions.

Children in armed conflict benefit from general protection provided by international humanitarian law. The law also contains specific provisions recognizing the vulnerability and special needs of children in armed conflicts.
Violations of International Humanitarian Law in the Current War on Gaza:
The policy of starvation by preventing the supply of water, food, and aid and disregarding all laws by considering Palestinians (including children) as animals in human form.

Direct bombing of civilian facilities, including residential, health, educational, and refugee centers.

Bombing of civilian and health infrastructure.

Bombing of aid trucks and preventing their entry.

Use of internationally-banned weapons, including white phosphorus and devastating cluster bombs.

Adopting the scorched-land policy.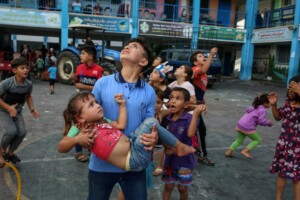 Double standards
The people of Gaza have been living in the world's largest open-air prison for 16 years. 
 and according to United Nations data, most of them are in urgent need of immediate humanitarian assistance, especially the children, many of whom have experienced seven consecutive wars. 
During these years, the people of Gaza, including their children, have endured extremely tragic conditions due to the Israeli blockade that controls commercial crossings. This suffering extends to the healthcare sector, with shortages of equipment and medical staff, patients waiting for Israeli permits for surgeries abroad, as well as food and food security, and the education sector due to the severe lack of educational facilities and the ban on Gaza students traveling abroad for their studies. This has increased the number of those suffering from psychological trauma. According to United Nations data, there are 229,000 children in need of some form of care and psychological support.
All of this injustice and suffering over decades has not stirred the international community into action to help them. 
It's a clear and egregious double standard that the children of Gaza are subjected to.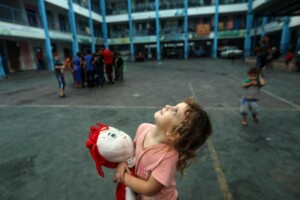 A Call to Action:
Given the dire conditions facing the people and children of Gaza, the "Arab Network for Early Childhood"  and the "Palestinian Network for Early Childhood" call on partners, donors, decision-makers, organizations, agencies, and governments to:
Pressure for an immediate ceasefire in the war on Gaza.

Referring the war crimes committed by the Israeli occupation to the International Court of Justice.

Pressure for securing humanitarian corridors for urgent aid delivery.

Send urgent specialized humanitarian aid to meet the needs of children and families and pressure against blocking the entry of such aid into Gaza.

Dispatch medical equipment and essential medicines, along with medical personnel.

Provide support for establishing safe shelters for families and children amid the ongoing siege and bombardment that poses grave consequences for families and children.

Holding Israel accountable for the bombing of refugee convoys and aid trucks.

Advocate for justice for the children and families in Gaza by avoiding double standards in their treatment.
With each passing hour of the destructive war in Gaza, buildings and homes are being demolished, children and entire families are being killed or displaced, struggling to access food, water, medicine, and a safe shelter.
It is the time that we ensure all the rights of children around the world, starting with Gaza, are respected and upheld.