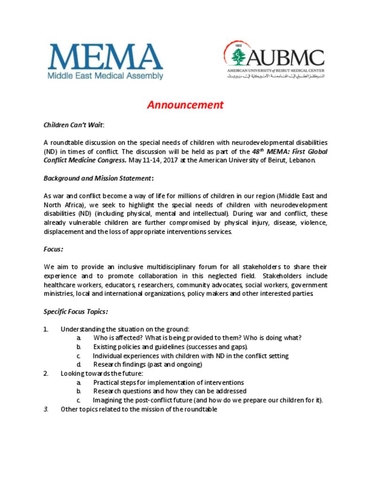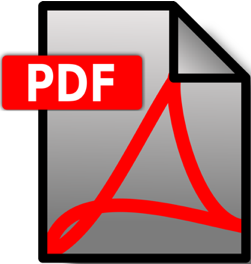 children_cant_wait_ (PDF)
Children Can't Wait:
A roundtable discussion on the special needs of children with neuro-developmental disabilities in times of conflict will be held as part of the 48th Middle East Medical Assembly: First Global Conflict Medicine Congress. The event is taking on place in May 2017 at the
American University of Beirut, Lebanon. More on: http://mema.aub.edu.lb/register/
The Organizing Committee:
Dr. Ghassan Abu-Sittah: Head of Division of Plastic & Reconstructive Surgery; co-Director, Conflict Medicine Program, AUBMC, Beirut, Lebanon.
Dr. Rose-Mary Boustany: Professor of Pediatrics & Adolescent Medicine/Biochemistry & Molecular Biology, Director, AUBMC Special Kids Clinic and Neurogenetics, Beirut, Lebanon.
Dr. Ghassan Issa: General Coordinator, Arab Resource Collective (ARC), Director, Arab Network for Early Childhood Care and Development (ANECD), Beirut, Lebanon.
Dr. Ramzi Nasir: Consultant Developmental Behavioral Pediatrician, Royal Free Hospital Foundation Trust, UK. Adjunct Physician, Boston Children's Hospital, USA.