Your e-mail may have been automatically added from other ECD lists.
We will be happy if you stay with us. However, you may unsubscribe at your convenience.
This week,
the 4th IDPA Conference!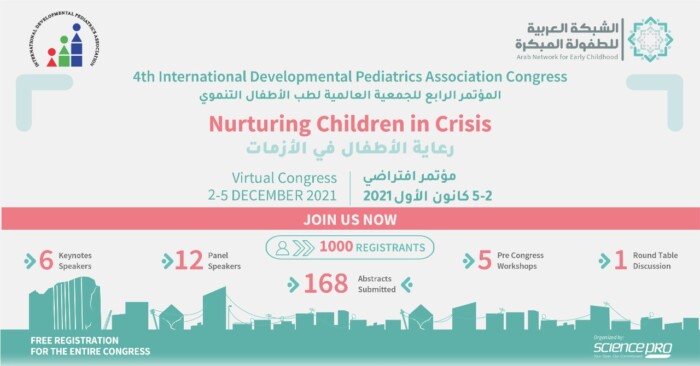 ---
After a year of preparation, the International Developmental Pediatrics Association (IDPA) and the Arab Network for Early Childhood (ANECD) staff are pleased to invite you to join us virtually to attend the 4th conference of the association entitled: "Caring for Children in Crisis"
The conference will start this week on Thursday, December 2, 2021, at 1:00 pm Beirut time, Lebanon, with an opening speech by the President of the International Association (IDPA), Dr. Alexis Reyes, and the Conference President and Arab Network Director (ANECD), Dr. Ghassan Issa.
The conference will continue for three consecutive days until December 5, 2021. Its sessions include 6 keynote speakers, 12 other speakers, 5 workshops, and a roundtable discussion.
The conference is not directed to the medical field only but to all health and social cadres interested and working in the development and care of children.
More than 1,000 participants have joined the conference and have participated so far from all over the world.
Join us now by registering for free, here
For more information about the conference and its program of sessions, here
---
A webinar on remote early childhood development programs in humanitarian settings


Remote modalities are an important but novel tool for early childhood development service providers in settings affected by conflict or crisis.
The Early Childhood Development for Action Network (ECDAN) and The Lego foundation are launching a webinar on "What do we know (so far) about remote delivery of early childhood development programs in humanitarian settings?". In this webinar, researchers and practitioners from BRAC, Sesame Workshop, the International Rescue Committee (IRC), NYU Global TIES for Children, and the University of Virginia will provide perspectives on the state of the evidence to date. The webinar will include a panel discussion with audience interaction encouraged on what steps implementers and researchers in the sector could take in order to improve our ability to make evidence-informed decisions.
The webinar will be held on 9 December 2021.
More on the webinar and registration, here
ECDAN Knowledge Fellowship Program
---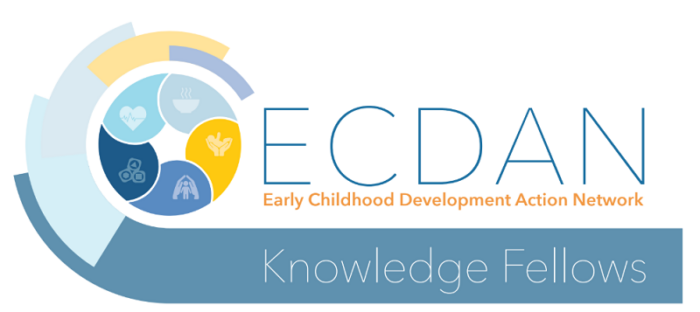 The Early Childhood for Action Network (ECDAN) announces the second round of our Knowledge Fellows program. It is looking for passionate young professionals to enrich Global Early Childhood Development (ECD) Knowledge & Learning Exchange efforts and gain experience in the Global ECD field.
The main purpose of the program is to create opportunities for learning, professional development, and networking for young professionals to increase their interest and engagement in the field of Global Early Childhood Development, and in so doing, to further the aims and goals of ECDAN's Knowledge and Learning exchange platform.
The deadline for applying is 13 December 2021.
More information and instructions, here
---
"Global Leaders for Young Children" Project

The Global Leaders for Young Children is launching the next generation of early childhood leaders in the world.
The program at the World Forum Foundation seeks to identify and develop the next generation of early childhood leaders throughout the world.
Global Leaders engage in an 18-month program, during which time they develop and implement action develop -oriented projects in their own communities aimed at improving the lives of young children. Through participation in two international meetings as well as ongoing communication, Global Leaders develop a strong network of regional and international peers.
More on the program and the application process, here