Accelerating Early Childhood Education in Crisis and Conflict Settings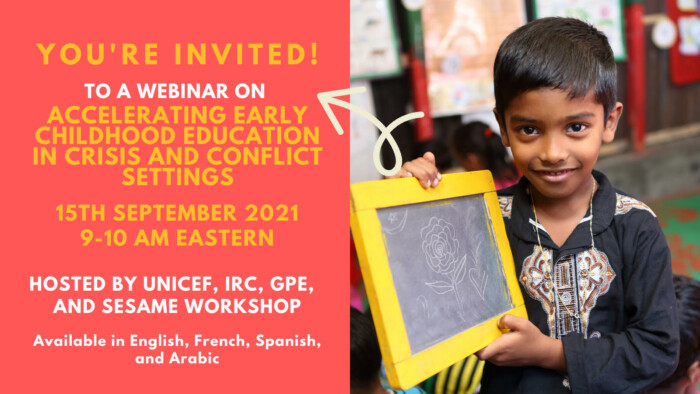 Register your attendance: https://bit.ly/3BGtERj
The Global Partnership for Education, UNICEF, the International Rescue Committee, and Sesame Workshop invite partners to join a 1-hour webinar on 'Accelerating Early Childhood Education in Crisis and Conflict Settings.'
Taking place on 15 September 2021, this online webinar will highlight evidence and the urgent need for prioritizing and investing in quality early childhood education and development in crisis and conflict-affected contexts.
A multi-perspective panel of representatives from national ministries, the humanitarian response system, and education investors will explore the challenges and opportunities for national decision-makers in data mapping and education sector planning and analysis. Panelists include:
Maria Agnese Giordano, Global Education Cluster Co-Lead
Nawaf Alajarmeh, Secretary-General of the Ministry of Education, Hashemite Kingdom of Jordan
Constanza Alarcón Párraga, Vice-minister of Pre-School, Primary and Secondary Education, Ministry of Education Colombia
Gustavo González, Resident Coordinator/Humanitarian Coordinator, UN Philippines
Andreas Blom, Education Practice Manager (MENA), The World Bank
Sherrie Westin, President of Sesame Workshop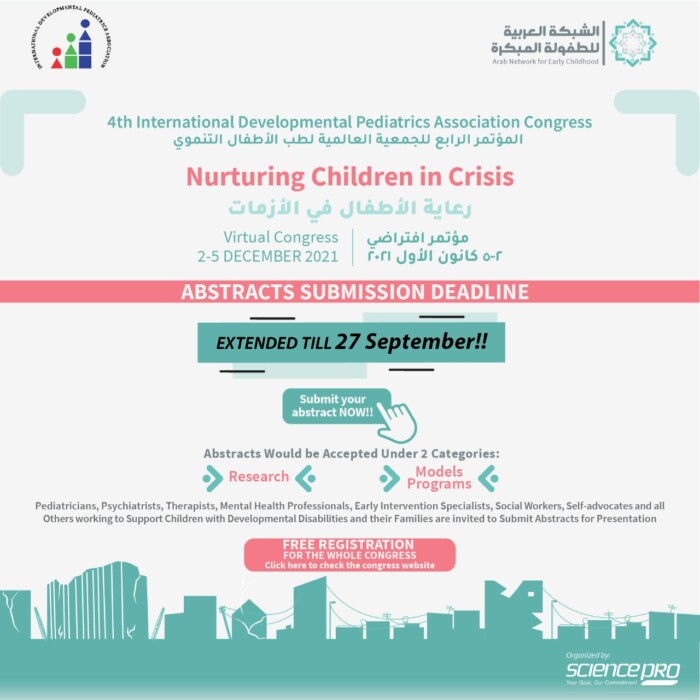 The 4th International Developmental Pediatrics Association (virtual) Conference:
Extension of deadline for Abstract Submission!
The deadline for abstracts submission for the 4th International Developmental Pediatrics Association Conference (IDPA) has been extended to 27 September 2021.
We recall that Pediatricians, Psychiatrists, Therapists, Mental Health professionals, Early Intervention specialists, Social workers, Self-advocates, and all Others working to support children with developmental disabilities and their families are invited to submit Research or/and Model (Program) Abstracts for the congress presentation.
More on the abstract submission, here
Register free for the 4th IDPA Congress, here
---
Your e-mail may have been automatically added from other ECD lists.
We will be happy if you stay with us. However, you may unsubscribe at your convenience.
---