More than three months after the devastating earthquake in Türkiye and Syria, millions of vulnerable families and children continue to suffer from the aftermath in all aspects of their lives. From displacement, malnutrition, the spread of diseases and epidemics, trauma and toxic stress, and a lack of health and education services, crises are piling up. This natural disaster came after more than a decade of civil war in Syria, and during a cholera outbreak and a blizzard resulting in many cases of hypothermia and respiratory infections in children, who are mentally suffering and have not eaten a warm meal since the earthquake. Furthermore, more than 1.7 million Syrian refugees in Türkiye were also affected by the earthquake.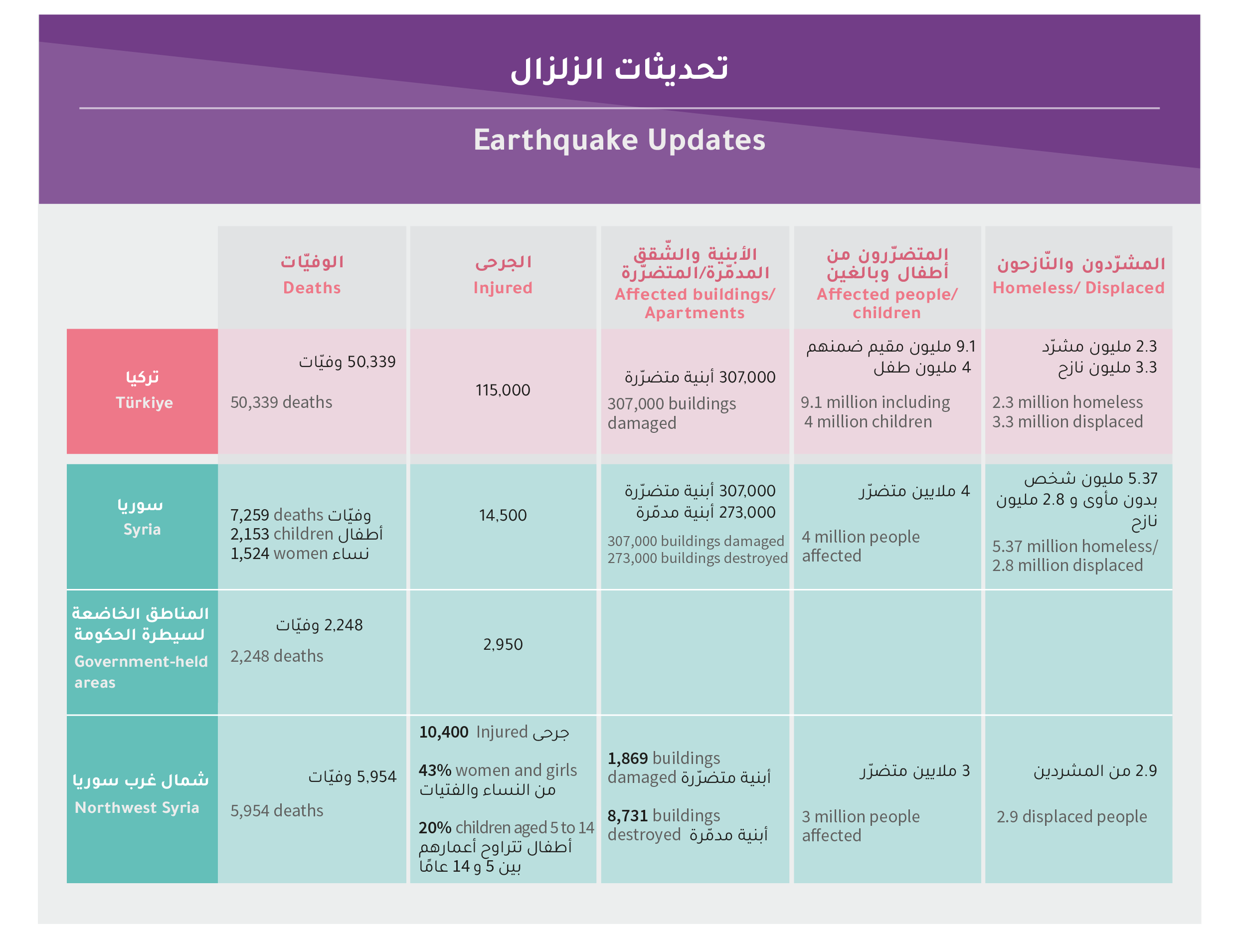 The earthquake took place in the midst of a plethora of economic, financial, and monetary crises Syria is suffering from, and which are still exacerbating. Consequently, the response to this natural disaster was itself plagued by these pre-existing problems. The suffocating fuel crisis has led to an interruption or scarcity of fuel supplies to productive, transport, and electricity-generating sectors. Moreover, lifting subsidies on basic commodities also affected the ability of families to provide the bare necessities, which led to an increase in malnutrition rates among women and children, especially in the poorest rural areas and settlements around cities. All that came "in addition to the decline in the number of health facilities, medical supplies, and medicines," per Dr. Maher Abu Mayyaleh, an expert in public health and executive director of the Aga Khan Foundation for Health Services in Syria. The class gap also widened dramatically, making a child living within a wealthy family unaware of the existence of another destitute child, which generated a state of violence among children, according to Farah (a pseudonym), a community activist working on the field in Syria.
Northwestern Syria, which is the area most affected by the earthquake, suffers from limited services due to the lack of available human and financial resources. In this region, there is probably one psychiatrist and three psychologists, which is insufficient, according to Riyadh al-Najm, the executive director of "Hurras" network.
The international crisis response to the earthquake in Syria was not as big as the disaster, with activists describing it as "very bad". The double standards in dealing with Türkiye and Syria made the amount of aid that reached Türkiye, which already has large tools to respond to disasters, extremely disproportionate relative to a country suffering from 12 years of war. During the first 72 hours after the earthquake, humanitarian response consisted of merely trying to understand the extent of the damage. Therefore, there was a delay in the arrival of aid, according to Maher Abu Mayyaleh. Furthermore, activists spoke about the paralysis crippling international coordination mechanisms, which were supposed to start responding to those affected. They also talked about tents, food assistance, and protection kits that remained inside warehouses instead of getting distributed. Despite the importance of in-kind and material response in the aftermath, their continuity remains questionable. As the summer season approaches, and the spread of diseases like lice and scabies persists, the demand for food and water will rise. Some also suggest the need to move from the humanitarian response to the early recovery phase, thus, start providing more sustainable services and building systems capable of responding to similar emergencies in the future.
After the first earthquake and what followed, the needs, especially those related to children and families, increased, most notably:
–  Economic needs that encompass all sectors
–  Food, especially in light of the decrease in aid provided by the World Food Programme
–  Safety and shelter
–  A sense of belonging after 12 years of war, which should be provided to the child through cooperating with the family
– First aid and more specialized psychological support services
– Health services, especially vaccination, nutrition, and disease management
– Education, a more sustainable donor funding for this sector, and work on a long-term strategy directed towards educating an entire generation
–  Supporting local efforts and ensuring that there is direct funding for local organizations without intermediaries.